When it comes to emergency window boarding in Derby be assured we at Budget Locksmiths Derby have you covered not only in derby but across the entire county of Derbyshire.
Our experience in the window repair industry goes far back to when uPVC windows first made an appearance in England and with our techniques at hand we use the most secure method of providing you with safety and security when you have experienced a break in, accident or a case of vandalism.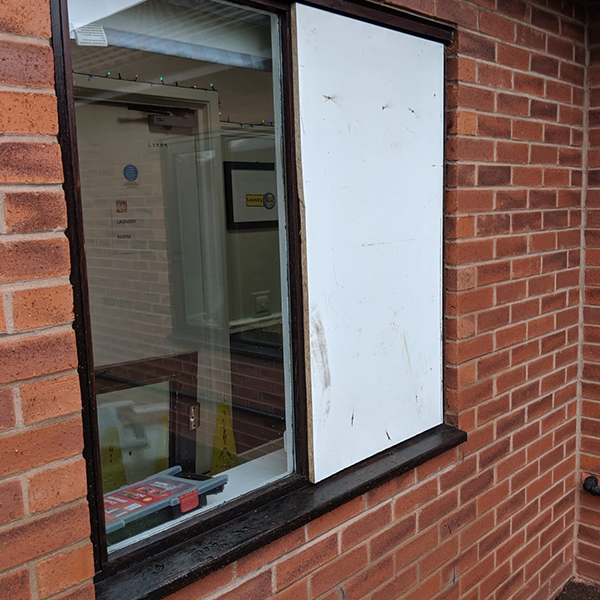 Emergency Window Boarding Derby
Offering a quick response time and an extremely fair price policy 24/7 365 days a year, our window repair experts are able to help with all emergency situations where uPVC, Wooden, Aluminium Framed windows need boarding up in a hurry and made secure.
When carrying out our window boarding Derby service it's all done in the most timely and efficient manner, there are several stages to the service to assure the customer that we take great care of everything necessary so that your property is left free of broken glass debris, therefore we do our utmost to remove the broken glass clearing any shards and pieces on the floor that is viewable to the eye. Whilst we are at your property, we will take measurements so if you choose to, receive a on the spot free no-obligation quote to supply and replace the glazing at an extremely competitive cost, furthermore we will take the time to talk to you about the various strengths of glass available and this includes optional glass pattern designs if required, we cover all angles to make our service as practical as possible from start to finish.
uPVC Window Boarding
Budget Locksmiths Derby team use a proven technique to secure uPVC window boarding in Derby, this is definitely not by screwing the board into the frame and causing unsightly screw holes which are clearly visible when the board is later removed, we have known this to happen many of times because Budget Locksmiths Derby were called to fix and put right such incidents. The technique that we use to install boarding is to glaze the window in the same way glass is inserted, instead of glass panes we'll insert our highest strength board using packers on the inside to make the tightest and most secure fit possible. When we install the boarding we also consider all weather conditions therefore we do our utmost to make a seal that can withstand wind and rain in case of stormy conditions. The board we install will only be removable from the inside preventing any intruders from attempting to prise the board off.
Wooden & Aluminium Window Frame Boarding
For other type of windows that are not uPVC, the following technique would apply to wooden and aluminium frame windows, we use an extremely effective to prevent damage to the frames by holding an external board in place with tamper proof carriage bolts that reach to the inside of the window and fasten on to batons that when tightened cause a compression of the internal and external boarding making it exceptionally secure and weather proof to tackle all weather conditions.
Commercial Window Boarding
For extremely large windows like a High Street shop front display, these type of windows tend to crack in such a way therefore additional options are available for a temporary boarding solution. We can apply a special film that allows day light to pass through so your products are visible although giving adequate protection for piece of mind that footfall, customers and staff members are not at risk until said glazing is replaced.
For a QUICK FREE no-obligation quote, please call our friendly team on 01332 492 024, If available, please provide measurements to the best of your ability to assist us in quoting as accurately as possible.