Essentially a suburb of Swadlincote and forming part of the Derby border with Leicestershire sits Woodville which once had a rich heritage in industries such as pipe-works, rope-making, breweries and pottery. Founded in 1882, Bretby Art Pottery was the most well known pottery studio in the area and early pieces can still be seen today displayed in the nearby Sharpes Pottery Museum and the Derby Museum and Art Gallery. One part of Woodville history that has survived is known as 'Tollgate' once a toll road between Ashby de la Zouch and Burton upon Trent now is the name for the area around the roundabout on the main road. Arnold Hurt was the vicar of St Stephens Church from 1945 to 1952 and had a son then aged 5 years old who spent 7 formative years growing up in Woodville and later went on to become one of Britain's finest actors, John Hurt.
Budget Locksmiths Derby is proud to be able to offer its services to such a renowned area bringing affordable prices and friendly, hardworking Locksmiths that cover all aspects of the Locksmith Trade and pride themselves in providing quality workmanship. For Locksmiths in Woodville you can rely on, call Budget Locksmiths Derby for a FREE No Obligation Quote, No Hard Sell Techniques, No Hidden Costs and No Call Out Charges.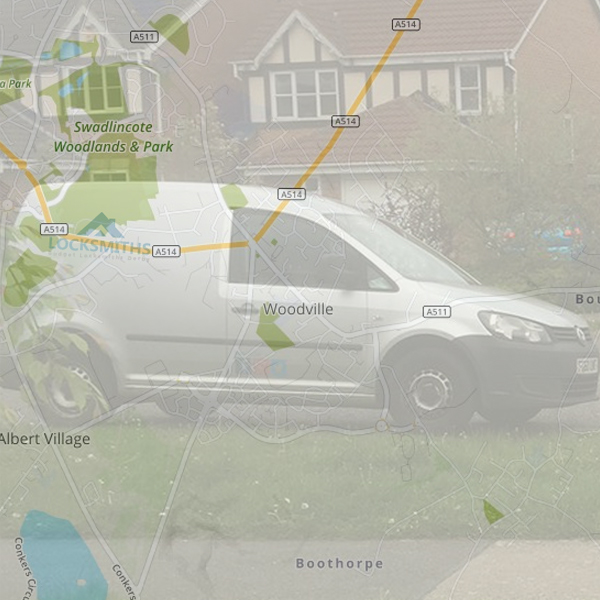 Emergency Locksmith
Woodville
You never know where you will be when you get the call that there is an Emergency at home and immediate attention is required, but how do you pay for it? Budget Locksmiths Derby are a well established company that accepts payments by cash, card and over the phone from you, your family or friends from whatever your location so you can always take advantage of the 24/7 Rapid Response time from our Emergency Locksmith Team in Woodville. Locked Out, Lock Changes, Key Snapped in Lock, Window Boarding and Glass Replacement. We can open any door and with an estimated arrival time of 15 minutes you will not be left out in the cold for long. Save our number in your contacts, you never know when you might need us.
uPVC Door Repairs
Woodville
Our uPVC Door Repair Service covers all issues that can affect uPVC or Composite Doors. Our team of friendly knowledgeable Locksmiths in Woodville are happy to help and advise the best solution to your problem whether the door is not opening and shutting properly and needs realignment or adjustment to the hinges or the handle which is the connector to mechanisms that affect the functionality of the door so the handle may be the part to let you know there is a problem by becoming loose or sticking which could indicate a problem that the spindle is too long or indicate a problem with the Multipoint Lock or the gearbox that is housed within the Mechanism Strip. Let us know about any problems with your locks, difficulty in turning the key, key snapped in the lock, door not locking properly. Our experienced team of Locksmiths employ non destructive methods of working that cause no further damage in the repairing of the lock which will remain intact and fully functioning and in the uPVC Door itself, we can replace damaged panels and glass. All parts used are by branded big name suppliers such as Avocet, Fab & Fix, Fuhr, G.U, Mila and Yale and all come with a 12 month warranty. Call us for a FREE No Obligation Quote and a same day appointment to get your door back in full working order.
Should you want to accessorize your front door Budget Locksmiths Derby have a range of accessories that will enable you to personalize the front of your house with Colourful Numerals in styles that will suit everyone, Letterplates, Letterboxes and Handles. At the back of the house we can fit or remove Pet Flaps. You may also want to add some extra security by fitting a Door Chain or a Letterbox Restrictor both items will increase the level of security A Door Viewer and the WiFi Door Camera are excellent ways to be able to see who is at the front door without having to open it. The door viewer can come in different strengths and is placed at eye height within the door whereas the WiFi Door Camera links up the the TV and you can see immediately who is outside without having to move at all. Call us for more information on any of our accessories and we will be happy to help you make the right choice for you with no pressure sales from us.
uPVC Window Repairs
Woodville
Problems with your uPVC Window? Our team of Locksmiths in Woodville are also experts in carrying Out uPVC Window Repairs where no job is too small from fixing the condensation in the double glazing, draughts from broken seals to fixing a uPVC Window Lock, Keys Snapped In the Lock or maybe you have lost the keys to the lock. Window locks are an important part of home security with the aim of keeping intruders out. There are many different types of window locks and handles available and we will be able to replace or fit new handles as required. The most common are the Cockspur, In-line, Offset and Tilt and Turn handles. It is Espag Locking Systems that are usually fitted onto uPVC Windows which function by moving a sequence of locks around the edges window when the handle shuts, very effective when working properly but in order to maintain security it needs attention if there is a problem. To receive a rapid response to all your uPVC Window problems give us a call for an immediate No Obligation Quote and a friendly efficient service from our uPVC Window Repair Team in Woodville.
Locks and Upgrades Woodville
If you have just moved into a new house you may consider changing the locks to give yourself peace of mind. Our Locksmith team make Lock Changes in Woodville a straightforward experience where they can also share their expertise for your benefit by conducting a full Security Audit and Risk Assessment of your new home. However it is not just the front and back door of the house that need securing against unauthorized entry. Perimeter gates and Electric Meter Boxes need to be locked and Garages, Sheds and Garden Storage Boxes are amongst the myriad of out buildings that are available on the market today where items of value are stored. Budget Locksmiths Derby use branded locks from a wide range of suppliers for everything and anything you want to lock away. Euro Cylinder Anti Snap Locks that are also Anti Pick, Anti Drill and come with 5 keys and a 5 year warranty are what we fit as standard but also available are Mortice Sashlocks and Mortice Deadlocks, Padlocks, High Security Locks, Deadbolt Locks, Night Latches, Garage Door Locks, Digital Locks, Cam Locks and Cabinet Locks.
A well respected lock upgrade we can recommend you take a look at is the Brisant Ultion Lock by far the best in its class and worth the investment whether you are a homeowner or have a business in Woodville. Proven to be the best burglar deterrent on the market it carries the coveted Ts007 3 Star Diamond Rating and the makers give it a 10 year guarantee. So confident are they that no one can gain entry by disabling the lock cylinders or snapping the lock that they will pay you £1000 such is their commitment to delivering burglar proof security. For more information on this or any other lock queries you may have feel free to call, email or request a call back where we will be happy to discuss all of your options.
Auto Locksmith in Woodville
As with any established Locksmith we aim to cover all areas of our business so we are well aware that Vehicle Locks can cause some of the most stressful times for example if you are a delivery driver looking at your keys in the van through a locked door, a Van Locksmith in Woodville could be just what you need. Budget Locksmiths Derby have a team of professional Auto Locksmiths working 24/7 that can gain entry into vehicles that include Cars, Vans, Lorries and Motorcycles in Woodville. We cover almost all makes and models of vehicles but if you are not sure, a quick phone call will give you an immediate answer. Currently only able to provide an unlocking service because you have lost your key or to retrieve your keys from your locked car or the boot is what our trusted and reliable Auto Locksmiths do whilst using specialist tools specifically designed for the make and model of your car and non destructive methods of working to prevent any damage to the lock or the paintwork of your vehicle. Our Motorcycle Locksmith Service extends to unlocking the Ignition, Pillion Seat, Top Box and Security Chain unlocking and removal.
Also available for all vehicles is the Extraction of Snapped Keys from the lock. Wherever our Auto Locksmiths are when you make the call you can always rely on a fast response time from Budget Locksmiths Derby to get you back on the road. Keep our number in your phone contacts for when you are out and about, you never know when you might need an Auto Locksmith in Woodville.
Crime in Woodville Derby
The Derbyshire Constabulary covering Woodville has a Safer Neighbourhood Team that encourages residents to communicate and report concerns in the area. With over 90 Safer Neighborhood Team accounts active on Twitter it is easy to follow your local team of officers who keep the community updated with important and useful information, promote events and give safety advice. Budget Locksmiths Derby are also very keen to promote security and safety in Woodville and are always available to give advice on Locks and Locking Solutions.