Our hardworking team of Locksmiths in Allenton are used to working in and around the busy city of Derby where the suburban shopping centre is one of the largest in Derby which is why we have an excellent reputation of turning up when we say we will and doing the job with the least amount of hassle. Fully insured and known for providing 100% guaranteed quality workmanship with excellent reliability at affordable prices that are continually monitored by our Best Value Policy for both our Residential and Commercial customers.
Offering a 24/7 Emergency Service, a Vehicle Unlocking service and a same day service for repairs where all our Locksmiths come out fully prepared for all eventualities you will always be able to rely on our company whether it's a long term relationship between companies or a one off job, you will be well looked after by our team who are committed to providing the best Locksmith service in Allenton. Free No Obligation Quotes, No Hidden Fees or Call Out Charges means you are only ever charged the price quoted. Payments can be in cash or by debit card in person or over the phone. We can be contacted by phone, email or you can request a call back and we will call you, so get in touch if you need a no fuss friendly locksmith with a fast response time to get the job done.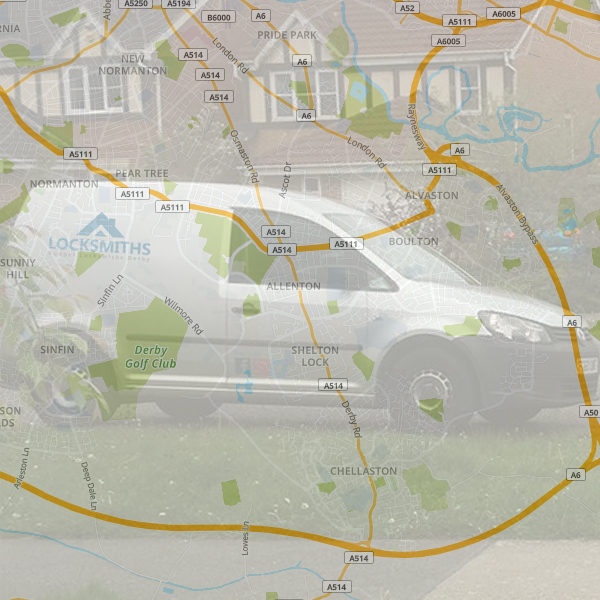 Emergency Locksmith
Allenton
In your hour of need you can rely on our Emergency Locksmiths covering the Allenton area. Locked out of the house, Locked the keys in the car, Lock Snapping, Lock Repairs or Changes, Door or Window Repairs, Window Boarding with 24 hour Glass Replacement our full range of Locksmith services are all available with rapid response times 7 days a week at anytime of the day or night. Specialist Commercial Locksmiths are also available for repairs caused by criminal damage, Safe and Vault Work, High Security Lock Changes, Shopfront Window Boarding, Door Opening, Roller Shutter Door Repairs and much more. Let our 12 month Parts and Labour guarantee plus quality workmanship give you the confidence to call us when things go wrong. We do not charge call out fees so based on the details given, you will get an immediate quote for the job that will have no hidden costs. Easy payment options mean you can pay by cash or debit card in person or over the phone by family or friends if you are stuck without funds. Our customers safety and security is important to us so don't delay, take the pressure off the situation and let us come up with solutions.
uPVC Door Repairs
Allenton
uPVC Door Repairs are not the only doors we repair as our team are trained to work on all types of external and internal doors. uPVC Front, Back and Patio Doors, Composite, Wooden and Aluminium doors, Bi-Folding Doors, French Doors, Panel Doors in fact we can fix them all. Any door can get faults that can go wrong over time, by misuse or damage but rarely do any individual faults need the purchase of a new door so if you have a faulty door and are being pressured into buying a new one, give us a call first. Our uPVC Door Repair Services include Handles whether flimsy or stuck they can be repaired or replaced. Hinges can cause the whole door to become misaligned if they drop due to not being strong enough to support the weight of a heavy door. Locks can be replaced if you have lost your keys, the lock is not working properly or you want to upgrade the cylinder. The Lock Mechanism that is set into the door and the Lock Case can both differ depending on the type of uPVC Door as there are lots of different parts currently in use which is good news if you have an older door and the faulty part is no longer available. We will supply and fit a modern equivalent that will not only fix the problem but also likely to increase the level of security. Our friendly reliable Locksmiths carry a wide range of spare parts with them so that all uPVC Door issues can be resolved in one visit.
uPVC Window Repairs
Allenton
Our experienced tradesmen can repair all uPVC Window problems from the Double Glazing to Seals. uPVC Windows are ideal for Double Glazing but it does sometimes present with problems such as condensation, misting or fogging. If this sounds like your window then we can fix it without the cost of a new window unit by replacing and resealing the glass. Other types of glass that can be replaced around the house include Toughened Glass, Energy Saving K Glass, Self Cleaning Glass, Patterned Glass, Georgian Bar Glass and Glass with Lead Work. Let us come and replace faulty seals that will make that draught or leak a thing of the past. Handles can be replaced and we carry a selection of Cockspur, Inline, Offset, Tilt and Turn Handles and Espag Handles plus the many variations of Multipoint locks that are compatible with the Espag Handles. Repairs or replacement of Window Lock Mechanisms or the Gearbox, Window Locks and Misaligned Hinges are all part of a days work for our hardworking team. We are often asked about security products that can be fitted to windows and we are able to supply and fit Window Hooks and Window Cables both are devices that restrict the window from opening to full capacity which is ideal if you have young children or someone with a disability who is unable to reach out to shut a fully opened window. For any uPVC Window problems around the house give us a call for advice and a free no obligation quote and we can pop round for a same day repair or arrange a time that is suitable for you.
Commercial Locksmith Allenton
We understand that businesses need a reliable professional locksmith available 24 hours a day to arrive on the scene quickly and have the skills to quickly solve problems that occur in the commercial sector. Our team of Commercial Locksmiths are committed to giving the best service and advice whether you are a small local business or a multi national company. Our Security Safe specialists can relocate Safes and Vaults of any size to wherever you want them whilst ensuring that they are protected by heavy duty materials at all times during transport. If you are thinking of purchasing a safe they can give sound advice on different types available such as a Fireproof Safe, Floor Safe, Hidden Safe, Key Safe or a Safety Deposit Box.
Unfortunately a common call out to businesses is for Boarding Up the Shopfront and if caused by criminal damage we can assist and work with local authorities in providing evidence. With no size restrictions in place, our Boarding Up service places a temporary board secured on the inside of the building, leaving your business safe and secure until the new glass can be fitted. We will clean up by removing all the broken glass and also assist with any ongoing concerns you may have. Commercial CCTV and Alarm Systems can be supplied and fitted as required.
Other services include working on Door Opening, Door Repairs including Roller Shutter Door Repair. High Security Locks supplied and fitted, Fire Safety Door Mechanisms, Push Bars and Push Pads and Emergency Door Hardware. Installation and maintenance of Registered Key Systems, Door Entry Systems, Master Key Systems and Keyless Systems are all covered busy our Commercial Locksmith Team. Log our phone number in your phone or emergency contacts book for your staff to easily access saving valuable time and effort when you need a Commercial Locksmith in Allenton to solve your problem.
Auto Locksmith in Allenton
Our Auto Locksmith team operates a 7 days a week, 24 hours a day Vehicle Unlocking Service in the Allenton area that covers Cars, Vans, Lorries and Motorcycles. Understanding the urgency of a call, our team will not keep you waiting for long if you have locked your keys in your vehicle, or need a Snapped key removed from the lock. Using specialist tools specific to the make and model of the vehicle alongside non destructive methods of working ensures the lock remains intact and the paintwork untouched on doors, boots, sliding side doors on vans as well as cabs and back doors on lorries. Motorcycles can also benefit from our snapped Key Removal and unlocking services with Ignition Unlocking, Seat Compartment and Pillion Seat, Top Box, Security Chain and Fuel Tank. Save our number in your phone so that we can be quickly on the scene if you are out and about.
Crime in Allenton Derby
Anti Social Behaviour can consist of various forms of behaviour that are not always criminal. Noise nuisance, verbal abuse, gathering in groups and leaving rubbish and litter lying around are some of the causes. How do you report them? Every area in Derby has a Safer Neighbourhood Team that concentrate on local problems and rely on the public voicing their concerns at community meetings where everyone is encouraged to attend or they can be contacted at the local Police Station. Information on the annoying parts of Anti Social Behaviour can stop them escalating into more damaging acts so help prevent crime in Allenton by reporting it and hopefully you can save someone from becoming a victim.