Why use Allestree Locksmiths? Because we are a well established business with high work standards that produces quality workmanship at affordable rates. We have specialist Locksmiths with experience in different sectors, Residential, Commercial, Safes+Vaults and Automotive but the one thing they all have in common is that they are a friendly lot dedicated to repairing, restoring, maintaining or improving your security 24 hours a day 7 days a week. You will always be able to rely on us whether it is for a one-off job or a long-term relationship between your company and ours. Allestree is predominantly a desirable residential area with Park Farm Shopping Centre, the largest in Europe when it was built in 1963 where big names and long established businesses are still trading, along with a great mix of small independent businesses, pubs and restaurants not forgetting the beautiful parkland used for leisure and events. Allestree Residents and Businesses are rightly proud of what they have and they will certainly be well looked after by our local Locksmiths in Allestree committed to giving you the best service and advice. Read on for how we can help.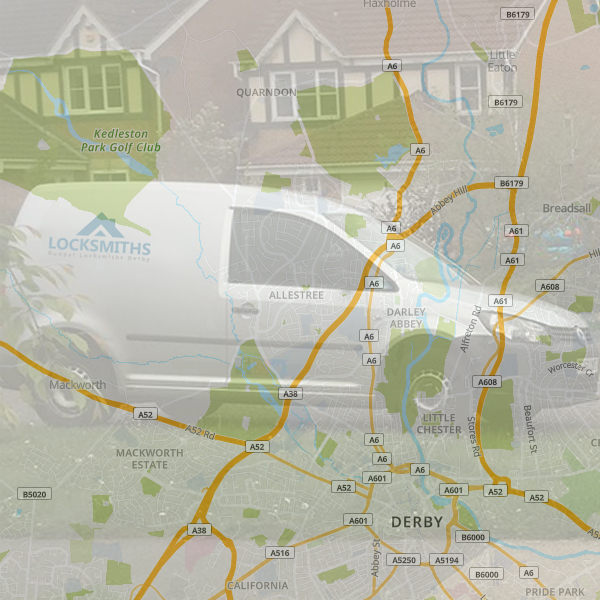 Emergency Locksmith
Allestree
I have been Broken into, I am Locked out of my House, Vandals have broken my Shopfront Window, whatever your emergency we have an experienced fully equipped team that will arrive on site ready to get to work on all Residential and Commercial emergency call-outs. Call us right away for a super quick response time so we can replace your lock, fitting a Euro Cylinder Anti Snap Lock that comes with 5 keys, we will get you back into your property quickly using non destructive methods that will leave no damage to your door and your lock working as normal and working in line with Health and Safety Regulations we will Board Up the Shopfront Window Frame using the best practice method of Boarding Up from the inside giving extra security until our 24hr Glass Replacement Service can re-glaze the shopfront the following day. As the safety as well as the security of our customers is important to us we will clear up by removing all of the broken glass and for added peace of mind, all the work we carry out is guaranteed.
uPVC Door Repairs
Allestree
Our Locksmiths are trained to work on problems that occur on all types of doors including high security commercial doors as well as uPVC Doors. Over time doors can develop a number of faults that are better dealt with sooner than later to avoid further damage, complications or that compromise your security. Don't leave yourself vulnerable with a faulty lock where there is difficulty turning the key or an issue with the actual locking process. We will come out and repair or replace the lock. Handles on external and internal doors can get worn or damaged and show this by becoming flimsy or stuck in position. It might just be a broken spring but can indicate there is a problem elsewhere with the multipoint locking system, central locking mechanism or the gearbox that fits onto the mechanism strip. We are happy to come out to assess the problem and advise a solution with a free no obligation quote for the job. Hinges are an important part of keeping a door aligned with the frame for example Composite doors are heavy and if not fitted properly can put pressure on the hinges causing the door to drop. Misaligned Doors will not open or shut easily and draughts will come through the gaps, not great for energy efficiency. Our Locksmiths in Allestree can work on door frames, realign the hinges and re-hang the door if necessary. Broken or damaged uPVC Door Panels can be removed and replaced as can the Glass inserts saving you the cost of a new door. If you have a door that needs help getting back to good working order and would like a free no obligation quote with no hidden extras, give us a call, send an email or request that we call you back.
uPVC Window Repairs
Allestree
We have a comprehensive range of uPVC Windows repairs that will save you the cost of a complete new window unit. If your Double Glazed Windows gets condensation and mist up, we can re-glaze and re-seal the window. Window handles can become flimsy or stuck just like door handles so we carry stock of Espagnolette, Cockspur, Inline and Tilt and Turn Handles. Key snapped in the lock or faulty window locks can all be replaced. A common fault with windows are the hinges that can wear or sustain damage through force if the window doesn't shut easily. All Parts are liable to weaken with age and The Window Lock Mechanism and the Gearbox are no exception but they too can be repaired or replaced. Our Locksmiths carry all spare parts on their vans to ensure work is completed in one visit and all are parts come with a 12 month warranty. We also have a couple of excellent security features available for Windows that are above ground floor level and especially in a nursery if you have young children around. The window Hook restrictor prevents the window from opening to its full capacity and Child Lock restrictor stops the window opening at all. The Cable is another good example of window restrictor that only allows partial opening. Talk to us for some friendly advice on any of your uPVC window issues.
Locks and Upgrades in Allestree
Whether you want to replace the locks, change the locks or upgrade to an Ultion Lock Allestree Locksmiths make it a straightforward hassle free experience. Moving to Allestree? Changing the locks on your new home will give you peace of mind that you are fully protected. The standard lock we fit is the Euro Cylinder Anti Snap Lock that comes with five keys and works well with the Multipoint Lock commonly found on uPVC and Composite Doors. There are three other types of Euro Locks, the Double needs a Key to open both sides, the Thumbturn requires a key to enter but has a knob on the inside to comply with fire safety regulations allowing an easy exit for groups of people living in the same building and the Half Euro, mostly found on up and over garage doors and housed in the electric shutter control box. There are so many types of locks on the market made by trusted brands that we stock such as Yale, Avocet, Fuhr, Mila, Fab & Fix, Millenco, Winkhaus, G.U, ERA and Ultion to name a few. We can fit locks to External and Internal doors, Conservatories, Patio Doors, French Doors, Sheds, Outside Storage Units, Gates, Garages, Electric Meter Boxes, in fact wherever you want to place a lock we can source the right lock for the job and fit it for you. Commercial Locks available include Master Key Systems, Registered Key Systems, Keyless Systems, Door Entry Systems, Emergency Exit Hardware, Roller Shutter Door Locks, Digital Locks and all types of Commercial Door Locks. If you need an experienced locksmith to visit for a review of your current security, arrange a time that's convenient to you for a free no pressure and no hard sales Security Audit and Risk Assessment on your home or business.
Auto Locksmith in Allestree
Our professional team of Auto Locksmiths work their lock picking magic on an extensive range of Cars, Vans and Lorries by using tools specifically designed for your make and model of vehicle and they are ready to act as soon as we get the call that you have locked yourself out of the car. If the keys are in the car or the boot we can gain access to retrieve them without damaging the lock or scratching the paintwork and you will be good to go however if you have lost the keys, we can still gain access but are currently unable to provide a replacement key. Keys snapped off in the lock can be retrieved from all vehicles including motorcycles. Unlocking services available for Motorcycles include Seat Compartment and Pillion Seat, Ignition, Top Box, and Security Chains.
Crime in Allestree Derby
Crime prevention is very proactive in Allestree with events held by Derbyshire Police offering opportunities for local residents to keep up to date with current initiatives and the Safer Neighbourhood Team keen to give advice, get feedback from businesses and residents and encourage to participation in the Derbyshire Alert scheme that heightens awareness of crime occurring in the area and policing issues. As Locksmiths we want everyone to feel safe in their own homes so make sure that all locks on doors and windows are well maintained because if you have any concerns at all, we are only a call away.