You never know where or when you are going to need a Locksmith but when you do, you want to know that there is a local. trustworthy, well established business with experience in all aspects of the locksmith trade. Duffield Locksmiths have only professional locksmiths that produce quality workmanship using non destructive methods of working in the Emergency, Residential, Commercial and Auto sectors. Offering affordable rates on all our services and payment by cash or card in person or over the phone, we have an excellent reputation for going the extra mile for our customers. Our locksmiths are always on call with a 24/7 service for any the excellent range of commercial and social amenities available in Duffield and the local sporting teams such as the Duffield Dynamos Football Club, the Cricket Club, the Tennis, Squash and Racketball Club and the Snooker and Billiards Club where there will be important equipment and facilities that need to be securely locked away at the end of the day. For a town so well loved by its residents Duffield deserves a local Locksmith Company determined to provide a Locksmith Service that can be relied on to take great care in keeping all areas of it safe and secure, just give us a call for any of your locksmith requirements and we will be happy to help.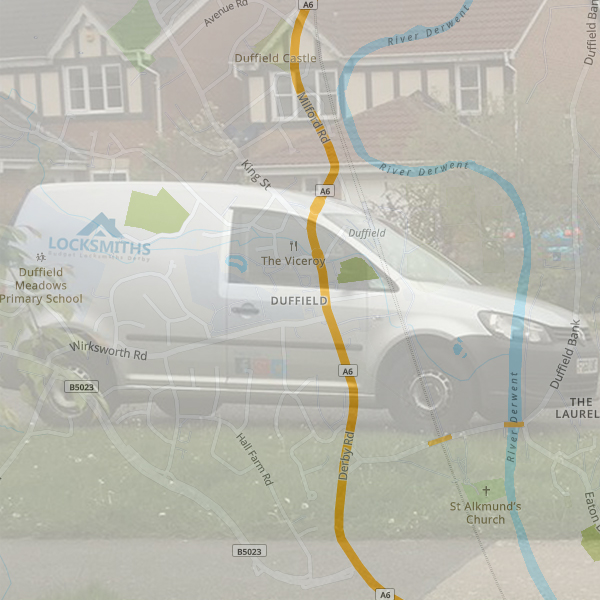 Emergency Locksmith
Duffield
If an Emergency Locksmith is what you need either at home or at work or maybe whilst out shopping having locked your keys in the car we have an experienced team ready to react to your call with a fast response time that means you won't be left waiting for long. We operate a Door opening service available for homes, buildings or vehicles where we use non destructive methods of working leaving the original lock intact with no damage to the door, door frame or paintwork. Lock Changes if you have been broken into and a Window Boarding Service with 24hr Glass Replacement available for all residential and commercial properties are the most common calls we respond to but no job is too small for our Emergency Locksmith team who are only too happy to get you back into your house, open the locked safe at work or open the car door to reunite you with your keys. Save our number in your contacts now as you can call us anytime for our 24/7 Emergency Locksmith service in Duffield. If you get locked out, you will be glad that you did.
uPVC Door Repairs
Duffield
If you have a uPVC Door in need of repair, we can fix it. Of all the mechanisms that are fitted to doors we can supply and fit all of them even if the part you need is outdated and no longer stocked, from our many branded quality suppliers that we use such as Avocet, G.U, Millenco, Mila, Fab & Fix, ERA, Winkhaus and more, we will be able to quickly source a new and improved alternative that will maintain or increase your current level of security. Our experienced team are also able to carry out any repairs required for Composite and Wooden Doors, Conservatory, Patio Doors, Tilt and slide doors and any of the many other types of internal door. Repair services include replacing slack hinges and loose handles, correction of misalignment between the door and the frame, fitting locks and striker plates, replacing door lock mechanisms and gearboxes, replacing damaged or old panels and glass inserts. With. 12 month guarantee on all our parts fitted you can have complete confidence in giving us a call, send an email or leave a request that we call you back for a FREE No Obligation Quote with no hidden extras for one of our friendly team to come out for a same day repair.
uPVC Window Repairs
Duffield
As the largest component of a window is the glass it is comforting to know that we are able to supply and fit all types of replacement glass. Plain and Frosted Glass, Double Glazed Units, Toughened Glass, Energy Saving K Glass, Self Cleaning Glass, Patterned Glass, Georgian Bar Glass, and Glass with Lead Work are all available should you get a broken window through accident or intent. All the parts of a window are important and need to be functioning well together for the window unit to be secure. Handles are connected to the lock and should they become stuck or flimsy get one of us out to come and have a look and should you need a replacement we carry a range of uPVC Window Handles, Cockspur, Inline, Offset and the Tilt and Turn. It may be a fault with the Window Lock Mechanism or the Gearbox both of which are prone to wear and tear over time. Double Glazed uPVC Windows can often get a problem with misting or condensation but good to know that this can be easily sorted. Faulty Seals, Misaligned Hinges and a Faulty Espagnolette Locking System can all be repaired or replaced without the need of having to by a complete new window unit. Your safety is paramount and no job is too small for us. Keep your window secure and don't make it easy for an opportunist burglar to see a way in. We are just a call away for a same day response.
Locks and Upgrades in Duffield
Multipoint Locks are very popular and common in uPVC and Composite Doors plus they work very well with the Euro Cylinder Anti Snap Lock that also has Anti Pick and Anti Drill features which we fit as standard for all lock changes as it offers an excellent protection. This lock comes with five keys however it's not just the front and back doors that need a lock, there are many different types of locks that we can supply and fit that cover all areas of the home to keep your possessions safe. Locks and additional security for Conservatory, Patio and French Doors, Locks, Up and Over Door or an Electric Door for the Garage. Locks and Padlocks for the Shed or an Outside Storage Box, Electric Meter Boxes and Perimeter Fence Gates. Mortice Locks and Night Latches are available. The Brisant Ultion Lock is the ultimate cylinder lock upgrade. It comes with a higher price tag but we remain competitively priced on this excellent product. The Ultion Lock has been awarded a Ts007 3 Star Diamond Rating making it unbeatable and so confident and committed to developing security that works, Brisant company will pay you £1000 if anyone gains entry into your home by disabling the cylinders in this lock within the 10 year warranty period.
If you have any questions we have a wealth of knowledge in Locks and Security Solutions and will be more than happy to discuss options that give you premium security within budget.
Auto Locksmith in Duffield
Locked Out? We can let you back in. Our professional team of Local Auto Locksmiths operate a 24/7 Door Opening Service for Cars, Vans, Lorries and Lock Picking services for Motorcycles. Key Snapped in the Lock? Key Removal is available for all vehicles including motorcycles. We cover a wide range of makes and models of vehicles but if you are not sure, a quick call to us will give you an instant answer. We can open Doors, Boots, Side Doors and Back Doors. Using brand specific tools to match your make and model of vehicle and non destructive picking methods that will cause no damage to the lock, the door or the paintwork, if you have locked your keys inside the vehicle you will be able to continue on your journey immediately. If you have lost or broken the key we are not able to supply replacement keys at this time. Motorcycles, we can open your Seat Compartment or Pillion Seat, Unlock the Ignition and unlock and remove the Security Chain. For a fast response from our Duffield Auto Locksmith team give us a call for a FREE No Obligation Quote with No Call Out Charge.
Crime in Duffield Derby
Belonging to a Neighborhood Watch Scheme has many benefits as does a close relationship with the Police who are keen to give Crime Prevention and Home Security advice that strengthens the awareness and knowledge of residents and as a result are confident to act on information received. Locksmiths in Duffield don't want you to have to put a call in by becoming a victim or watching a neighbour become a victim due to a faulty lock, window or door. Remember no job is too small for us and we can come out at any time. Stay Safe and report any observed criminal activity to your local police.