We are a fully insured established company that is proud to offer services that cover all aspects of the Locksmith Trade, where our friendly professional Locksmiths use branded quality tools that ensure the work is carried out quickly, without hassle and to a high standard assuring customer satisfaction and reliability for both Residential and Commercial sectors not forgetting all the amenities available to the residents of Spondon such as the Library, Social Clubs, Public Houses and the many clubs and groups that serve the area who will find our range of services are comprehensive and diverse. We supply and fit quality branded products that come with a 12 month warranty and all work is guaranteed. You will certainly be well looked after by Spondon Locksmiths. Our Best Value Policy means that our prices remain competitive and affordable and we are happy to accept payment in cash or by card in person, or over the phone. You can book a Spondon Locksmith with just a call, sending an email or requesting a call back to get your FREE No Obligation Quote that will not include a Call Out Fee or any Hidden Costs.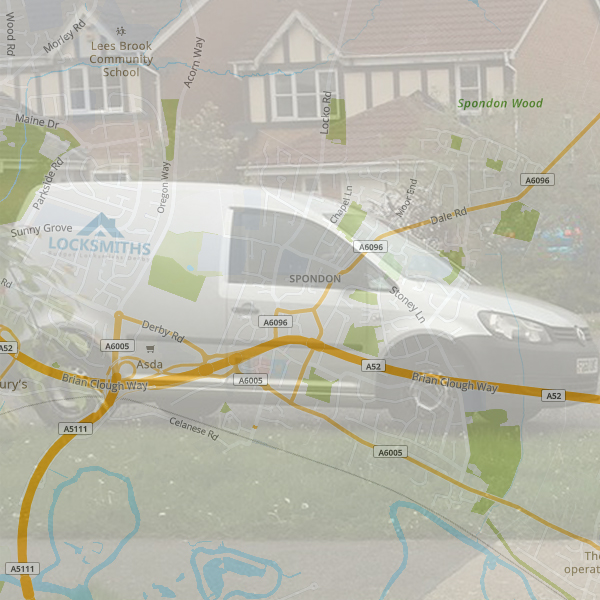 Emergency Locksmith
Spondon
If you have been broken into and need windows or a shopfront boarding up, maybe you have locked yourself out of your business, house or vehicle, need a lock changing, a snapped key removed from the lock or a business needing a High Security Lock System installing, making a call for an Emergency Locksmith in the Spondon area could not be easier. We have a team of skilled Emergency Locksmiths available 24 hours a day, 7 days a week providing a fast and reliable response time for all Residential and Commercial calls. Carrying out burglary repairs to locks and doors or replacing broken locks with keys, all of our services are undertaken using our non destructive methods of working with all Health and Safety Regulations adhered to so no matter if your emergency is big or small we have the expertise to put things right.
uPVC Door Repairs
Spondon
All uPVC, Composite, Wooden and Aluminium Doors are covered in our repair service. Repairing or replacing handles that get the brunt of wear and tear, correcting Misaligned Doors or Sagging Doors that could be causing damage to the Mechanism and Gearbox which will make locking the door difficult. Misaligned Hinges due to supporting a heavy door. Frame Repairs if the door fitted is not the right size for the frame. uPVC Panels or Glass Inserts can be replaced if damaged, saving you the cost of buying a new door. Whatever the problem we will have a solution for Front and Back doors, Patio and French doors, Conservatory doors, Bi Folding doors and all Internal doors. If you are not sure what the problem is, you can always call for one of the team who will be happy to come out and assess and give no pressure honest advice on the situation for you.
However, if you do need a replacement door, just want to change your uPVC Door or even upgrade to a Composite Door we can accommodate with a wide selection of modern stylish uPVC Doors and a Stunning range of Composite Doors that can be ordered and fitted. All designs are able to be viewed online or in our brochure so just give us a call if you would like to have a brochure to browse through.
uPVC Window Repairs
Spondon
If you have high security locks on your doors, it is a fact that windows can be a perfect break in point. Window locks are an important part of home security and should not be overlooked. Don't think that this is a job that a locksmith wouldn't be interested in, we definitely are interested in the safety and security of our customers and what you may consider a small job we consider to be an important one. Our Locksmiths are always available for a same day appointment for all uPVC Window Repairs. Handles, Window Locks, the Lock Mechanism or the Gearbox, Misaligned Hinges or Faulty Seals that can cause draughts or leaks. uPVC Windows are perfect for Double Glazing but that can sometimes cause problems with condensation or misting, you don't have to put up with that and you don't need to buy a new window unit, let us fix that for you by replacing and resealing the glass. If you have accidentally broken a window or been a victim of criminal damage, take advantage of our Boarding Up and 24hr Glass Replacement Service that is available 24/7. Our helpful experienced team Board Up from the inside giving a secure fit to prevent unauthorized access and will even clear up the broken glass for you afterwards. Glass Replacement types available are Double Glazing, Toughened Glass, Self Cleaning Glass, Energy Efficient K Glass, Georgian Bar Glass and Glass with Lead Work. For a FREE No Obligation Quote on any of our uPVC Window Repair Services give us a call, send an email or request a call back.
Locks and Upgrades in Spondon
Any good locksmith will tell you it is a good idea to periodically check your locks for problems, mainly because it could just save you having to call for an emergency locksmith to pick the lock when a straightforward cylinder lock installation is a much more cost effective solution. The Lock we fit as standard is the Euro Cylinder Anti Snap Lock that also has Anti Pick and Anti Drill features. It comes with 5 keys and a 12 month Warranty. These locks commonly used on uPVC and Composite Doors work very effectively in conjunction with the Multipoint Locking System. An additional benefit is that these locks can be keyed alike, so using this lock on the front and back door will reduce the number of keys required. New homeowners are advised to call us to replace the locks or to upgrade the quality of locks on their new property, give us a call for a FREE Security Audit and Risk Assessment on your new home and don't leave anything to chance. We will work with you to make your home secure at a cost that fits your budget. For home security upgrades we include locks for all types of External and Internal doors, from trusted big brand suppliers. Avocet, Asec, G.U, ERA, Fuhr, Lockmaster, Millenco, Winkhaus, Yale and many more to supply the type of lock required. Digital Locks, Garage Door Locks, Padlocks, Mortice Locks, SashLocks, Night Latches, High Security Locks, Cam Locks, Cabinet Locks and a large range of Cylinder Locks so whatever you want to put a lock on, we will have the lock you need.
uPVC Door Accessories
and Security Products in Spondon
Have you thought about changing the look of your home from the outside by adding or renewing some uPVC Door Accessories. Customise with our range of door accessories that include Letterplates and Letterboxes, a large selection of stylish and individual Door Handles and Door Knockers, Numerals for the front of the House that come in a spectrum of colours and styles to suit everyone and Pet Flaps that can be fitted or removed if no longer required. Alongside the uPVC Door Accessories we also supply and fit Security Products from Door Chains, Door and Letterbox Restrictors, Door Closers, Spy Holes that are available in different strengths and fitted at a comfortable height in the door. A WiFi Viewing Camera that links up to a TV and allows remote viewing outside the front door. Home Safes for securing valuables. Residential and Commercial grade CCTV and Alarm Systems. Should you be interested in any of our Accessories or Security Products we are always available with friendly advice and for any other information you may require.
Auto Locksmith in Spondon
It is a frustrating situation when you can see the keys in your vehicle but can't get at them because the door is locked. Our experienced 24 hour Auto Locksmith Team are just who you need to reunite you with your keys. Using non destructive methods of working the lock will remain intact and the paintwork untouched. Using specialist tools specific to the extensive range of makes and models of Cars, Vans, Lorries and Motorcycles that we cover, we perform our lock picking service on Doors, Boots, Side Doors, Cabs and Back Doors. Snapped the Key in the ignition? We can extract that for you but are currently unable to provide replacement keys. Services for motorcycles include Ignition Unlocking, Seat Compartment and Pillion Seat Unlocking, Top Boxes, Fuel Caps, Snapped Key extraction and unlocking jammed Security Chain Locks. For a rapid response, save our number in your phone just in case you are in Spondon and need an Auto Locksmith.
Crime in Spondon Derby
The Neighbourhood Watch scheme active in Spondon works in conjunction with the Derbyshire Constabulary Safer Neighbourhood Team in creating a safer environment in which residents can foster a sense of support for each other and develop community values. Any resident committed to making Spondon a safer place is invited to join supporting events and communications held at a local level. Working together is the best way to create strong and safe communities that actively deter unwanted anti social behaviour and potential criminal activity.