Now and again you may have need of a local Locksmith who is part of a well established business and thoroughly experienced in all aspects of the Locksmith trade. Being a busy residential area there is a sense of community in Alvaston having 8 Pubs and three parks with sports facilities, play areas and leisure activities for residents and visitors to enjoy and now Alvaston Locksmiths known for high standards and providing quality workmanship with courteous and friendly service where all work carried out is guaranteed are the local Locksmiths you can rely on to cover both the Residential and Commercial sectors. Operating a 24 hour fast response Emergency Service where we aim to be with you within 15 minutes, uPVC Door and Window Repairs, a Vehicle Unlocking Service, carry out Lock Changes and install New Locksets with a 12 month warranty on all parts supplied. Residential FREE Home Security Checks for homes and FREE Security Audit and Risk Assessments are available for the Commercial sector. We always keep our prices competitive through our Best Value Policy that has no Hidden Charges or Call Out Fees and to make payments easy we accept cash and card in person or over the phone from family or friends. You can contact us anytime by phone, email or request a call back for a same day appointment or book in a visit at a time that suits you.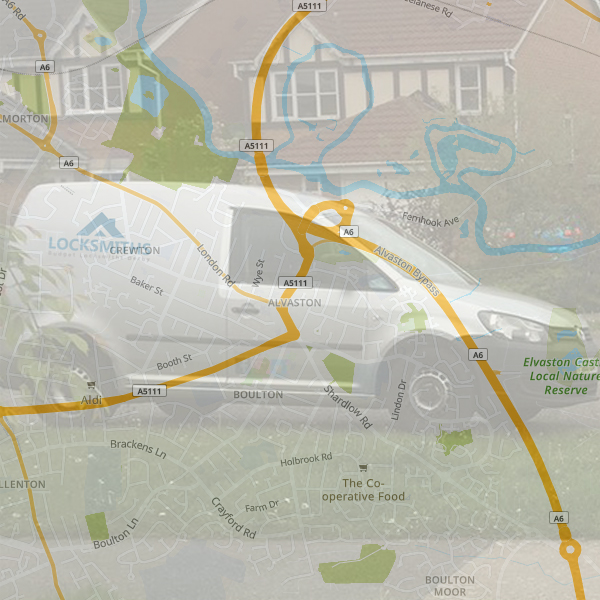 Emergency Locksmith
Alvaston
Ready for your call 24 hours a day our Emergency Service never stops. A Locksmith you can rely on is essential at this time, offering a comprehensive range of services required by the Residential and Commercial sectors who are ready to go at a moments notice for damage caused by Criminal or Anti-Social Behaviour, Change Locks and Lock Repairs for Doors and Windows, a Boarding Up Service with our 24 hour Glass Replacement for broken windows or shopfronts, Opening Safes and Vaults and Re-Entry for Lock-outs. Alvaston Emergency Locksmiths are the Team you can trust to be there and give support just when you need it. Landlords and Estate Agents we have Service Contracts available so that we can deal with your tenants on your behalf with customised methods of payment in place so that you don't have to be called out. Whatever your Emergency don't hesitate to call on us when you need a rapid response and a professional team for the job.
uPVC Door Repairs
Alvaston
It's so easy to leave the house, shut the door and then realize that you have everything with you except the door keys but you are not alone, lots of people do it and our Locksmiths in Alvaston are on hand to help. We can Re-Enter a property using professional tools and a non destructive method of working that leaves the lock intact and the door undamaged. If the key has snapped in the Lock, we can remove it. Most uPVC and Composite Doors have Multipoint Locks along with Euro Cylinders and these Mechanisms have parts that over time, can fail. If your door is not locking correctly the lock itself may be damaged or it could be the Locking Mechanism or the Gearbox. A Faulty Lock can also affect the working of the handle which could give you the first sign there is a problem. Sometimes there is a knock on effect from what seems like an insignificant issue but it puts everything out of place and a door that is Misaligned can do just that, what starts off as a door that sticks a bit when being opened or shut can lead to more problems. If you are not sure what the problem is we are happy to come assess the door for you and offer a solution. We can repair or replace broken uPVC Doors or just replace a panel or two and that includes the glass replacement too. We are available for any door issues wherever they may be Front and Back, Patio Doors, French Doors, Internal Doors give us a call for a polite and prompt service that will make your Door problems a thing of the past.
uPVC Window Repairs
Alvaston
If you have a problem with your window and are told that you need to replace the whole window, give us a call first. Almost all common problems with the parts of a uPVC Window can be repaired or replaced without the need for the purchase of a whole new window unit, even the Double Glazing. Condensation, misting or fogging can be sorted by professionally replacing and resealing the glass. All types of glass are available. Handles can be replaced whichever type you have, the Cockspur, Inline, Offset or a Tilt and Turn and the Espag Handle and Locking System commonly found on uPVC Windows which works by moving a sequence of locks around the window in order to secure it. The Espag handle can be identified by the spindle that extends out at the back and it is compatible with a variety of Multipoint Locks all of which we can supply and fit. Hinges can be a weak point on uPVC Windows if they become rusty over time or damaged through force and locked Windows can be opened. No job is too small for us so don't put up with a draughty or leaking window, give us a call for a FREE No Obligation Quote with no call out charges or unnecessary fees where all parts fitted come with a 12 month warranty and the workmanship is guaranteed.
Locks and Upgrades in Alvaston
As a standard we fit Euro Cylinder Anti Snap Locks that have Anti Pick and Anti Drill features, the lock comes with 5 keys and the option that if you have two Locks fitted for example both the front and the back doors, you can have them keyed alike doing away with the need for carrying extra keys around with you. Locks are our business and it is important to us that you have the most effective security for your home or business that's why we fit all types of Residential and Commercial locks sourced from branded suppliers ensuring you get the best quality fit for your door or window. Types of Mortice Locks such as Deadlocks and Sashlocks are usually found on Wooden or Timber doors and the level of security can be increased by adding a nightlatch whereas Multipoint Locks with Euro Cylinders that are more commonly found on more modern uPVC and Composite Doors can easily be upgraded by replacing the Cylinder with a higher specification. However, although the front and back doors of the house are of primary importance when it comes to home security also consider what locks are on the Patio Doors, the French Doors, the Conservatory, the Garage, the Shed, the Gate on the perimeter fence, outside storage boxes and the electricity meter. There are many parts of a property containing valuables that need to be secured and we have locks for all of them. For further information on Locks or Upgrades give us a call, send an email or request a call back for us to get in touch with you.
uPVC Door Accessories
and Security Products in Alvaston
Are you wanting to make a change because you need to renew or just want to get creative and personalize your home. We have on offer a great selection of uPVC Door accessories that will allow you to do just that. Letterplates and Letterboxes in a range of different finishes, colours and widths. Numerals for the front of the house with different colours and styles to suit everyone. Door Knockers and an exciting collection of Door Handles in more styles and finishes than you can imagine. Pet Flaps that can be fitted or removed with an original panel being replaced.
Security Products available are Window Hooks or Cables that restrict how far a window can open, really useful if you have small children around. Door Chains, Restrictors and Closers. Spy Holes with different strengths and placed in the door wherever is comfortable for easy viewing. Wifi Viewing Camera that links up to the TV allowing you to see who is calling without going to the door. CCTV Cameras and Video Surveillance technology with all capabilities to suit the range required to cover all your property or just specific areas and blind spots. Alarm Systems in all sizes including wireless technology that will suit all property types. Call us and let us help you to make the choice of what will be most suitable for your property but not from pushy salesmen with sales targets, just honest friendly professional advice for you to make the best decision to protect your home.
Auto Locksmith in Alvaston
Our specialist Auto Locksmiths use professional tools specifically designed for the make and model of your vehicle and are fully experienced in using non destructive methods of working when gaining entry to a vehicle leaving the lock intact and the paintwork untouched. The extensive list of vehicles covered for our Unlocking Service include most makes and models of Cars, Vans, Lorries and Motorcycles and we are also able to remove snapped keys from a lock. We can unlock Doors, Boots, Side Doors, Back Doors and Locked Security Chains. For Motorcycles Services include key removal, unlocking the ignition, the seat compartment, the Pillion seat and the Top Box. Once access has been gained, and you have the keys you will be able to continue your journey however if you do not have the keys we are currently unable to provide replacement keys. Keep our number on your phone so that when you call we can give you a Free No Obligation Quote that has no Call Out Fee and let us get to you as soon as possible and get you back into your vehicle.
Crime in Alvaston Derby
Primarily a Residential Estate situated within the Derby City Centre Area Alvaston is part of the Safer Neighbourhood Team run by the Police. A residential area always has challenges in staying safe and keeping crime at bay which is why there is a Neighbourhood Watch scheme in the area which is always good for keeping plenty of eyes on the ground and has the benefit of knowing that you aren't on your own. The Police work proactively with Neighbourhood Watch groups and working together will make Alvaston a safer place, so report any witnessed Anti-Social and Criminal Behaviour knowing you have the greater part of the community behind you.