Have you been looking for a well established Locksmith Business with Locksmiths you can rely on, that prides itself in having a reliable and experienced team providing a 24hr service of quality workmanship where all the work is guaranteed? Look no further as Locksmiths Littleover are at your service. We have a complete package of services which include an Emergency Service, uPVC Door and Window Repairs, Work on all types of Locks and Upgrades and an Auto Locksmith available to open Vehicle Doors or Boots. Budget Locksmiths Derby have professional Locksmiths that cover the Commercial sector from a small local business to a multinational company so ring us for a FREE No Obligation Quote, No Hidden Extras, No Call Out Charges and where payment could not be easier, we accept cash or payment by debit card from yourself or over the phone by family or friends if needed. Littleover has a main shopping area, two public houses, a church, schools and a sports college, commercial units, residential areas and a very rare sight in the rest of Derbyshire, a thatched roofed cottage. Littleover Locksmiths are available for everyone so feel free to call, email or request a call back for any of our services.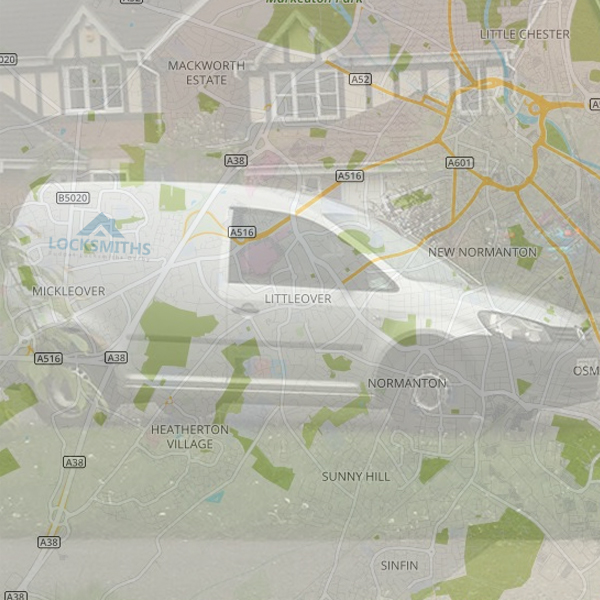 Emergency Locksmith
Littleover
Whenever you need an Emergency Locksmith we have an experienced team that work around the clock and in most cases will be with you within 15 minutes from your call. Locked yourself out in Littleover? We are the company to call to get you back into your home with no damage to the lock so that you will still be able to use your original keys in the lock afterwards. Have you had an accident, become a victim of criminal damage or anti social behaviour and need a Window Boarding Up? We offer a Boarding service with 24 hour Glass Replacement for a small window or glass shopfronts. On arrival, using best practice methods of boarding up from the inside, we ensure the integrity of the property or building deterring unauthorized access until the replacement pane of glass is fitted the following day. Our Emergency Service covers Residential and Commercial customers with no job too big or too small. Replacement Locks, Keys Broken in the Lock, Faulty Window Locks, and Burglary Repairs. We can open any door without causing any damage by using non destructive methods of working so no extra cost is incurred. Our aim is to respond to your call, give a No Obligation Quote an arrival time and the name of the Locksmith attending to ensure that you, your family and your property or business remain secure and protected.
uPVC Door Repairs
Littleover
Even though uPVC Doors are very popular nowadays we know that some residents in Littleover are just as likely to have Composite Doors or Timber Doors. We have a solution for all your door problems because whatever the door composition, the door parts remain the same. Handles, Hinges, Frames, and Locks make up the functioning part of the door and all these parts are susceptible to problems at sometime. A draughty door could be due to misalignment where the hinges need to be reset or replaced and a door that is not aligned within the frame can also cause problems with the door locking mechanism that can also affect other parts such as the gearbox that fits onto the mechanism strip. Handles can become loose or difficult to move and uPVC Door panels can get damaged and need replacement. All these problems can be fixed without the need to purchase a new door however should you need or want to purchase a new door, we have a brochure of stylish uPVC Doors and a stunning range of Composite Doors that we are able to supply and fit. We also offer a range of uPVC Door accessories that include Letterplates and Letterboxes, House numerals in a variety of styles and colours and Pet Flaps. Security accessories include Spy Holes that come in different strengths, Door Chains, Night Latches, WiFi Security Camera that links to your TV, CCTV Cameras, Alarm Systems and Home Safes. We do not have sales targets and never use hard sell techniques so there will be no push for an immediate decision just give us a call or send an email if you would like to browse through a brochure or need any further information.
uPVC Window Repairs
Littleover
uPVC Windows are also an important part of home security and any issues with opening or closing or a window lock need to be looked at. Our friendly Locksmiths are available with same day visits for faulty window lock mechanisms and gearboxes, hinge replacement, espagnolette repairs and handle repairs or replacement for any type of window handle as we also supply and fit Cockspur, Inline, Offset and Tilt and Turn handles. Double Glazing repairs that fix the common problem of condensation or window misting that can be caused by just faulty seals. All our parts come with a 12 month guarantee and replacement locks come with a set of 5 keys. Additional safety features we offer for your uPVC window are Hooks and Cables that prevent the window extending beyond a certain limit. Frequently found fitted onto hotel room windows they give peace of mind for any rooms above the ground floor especially where there are children around. Glass Replacement can be ordered for Windows and Doors and we have a variety of glass available depending on your requirement. Ordered and fitted within 24 hours we cater for Double Glazing, Toughened Glass, Energy efficient K Glass, Self Cleaning Glass, Patterned Glass, Georgian Bar Glass and Glass with Lead Work. No job is too small for us so for any concerns you have about your uPVC Window give us a call, send us an email or request a callback.
Locks and Upgrades in Littleover
A lot of burglars gain entry into properties through Lock Snapping which is why as a standard, our Littleover Locksmiths only fit Euro Cylinder High Security Anti Snap Locks with Anti Pick and Anti Drill features that come with a set of 5 keys and a 12 month warranty. Anti Snap Locks are made up of two parts so that even if a burglar breaks off the first part, the door will remain locked. To upgrade to a higher level of security we recommend fitting a PAS24 handle with the Anti Snap Lock that creates a barricade around the weakest centre part of the lock deterring burglars who soon realise the pointless task ahead and move on to an easier option. uPVC and Composite Doors are where Multipoint Locks are most commonly found and over time these locks can fail in the open or closed position, both of which compromise security. The Multipoint locks are recognized by the metal strip running down the full length of the door edge as the unit itself sits inside the door. With Rollers and Hooks used at either end and a latch in the middle, they work well with the Euro Cylinder Anti Snap Locks as the turn of the key activates the multiple points on the door to lock simultaneously. We are able to supply, fit repair or replace all locks including Multipoint locks on the same day from our large stock from branded suppliers. Anti Snap Locks give excellent protection but there is a Lock on the market that gives ultimate protection, the Brisant Ultion Lock. Price wise this lock is an investment suitable for both homeowners and businesses. Proven to be invincible, this Ts007 3 Star Diamond rated Brisant Lock comes with a guarantee that no access can be made to your property by disabling their Ultion Lock and will pay you £1000 if entry is made by lock snapping within a 10 year installation period. Now that has to be an upgrade worth consideration. If you are interested in upgrading your locks or having new locks fitted for peace of mind call Or email our specialist Locksmiths in Littleover who will be happy to discuss your requirements further.
Auto Locksmith in Littleover
Our Auto Locksmiths are able to carry out door and boot opening and snapped key removal services on most makes and models of Cars, Vans and Lorries. If you have locked your self out of your vehicle in Littleover give us a call and we will immediately let you know a price for the job and an arrival time. Our experienced Auto Locksmiths use specialist branded tools specific to your make and model of vehicle that will not cause any damage to the lock or the paintwork so once the keys are retrieved, you will be on your way. Unlocking services for motorcycles include Seat Compartment and Pillion Seat, Top Boxes, Security Chain Removal, Ignition Unlocking and Snapped Key Removal. So that you are never left stranded our reliable Auto Locksmith service is available 24 hours a day 7 days a week.
Crime in Littleover Derby
Littleover is policed by Derbyshire Constabulary and part of the Safer Neighbourhood initiative that enables residents to have an approachable visible police presence that is relevant to issues occurring within the area. There is also a Neighbourhood Watch scheme run by the community to act as a deterrent and assist the Police with investigations of reported crimes in the area. Be aware that opportunist thieves are always on the look out for easy access from doors or windows, make their job much more difficult by ensuring your locks are keeping you and your family well protected.