Born in Melbourne, Thomas Cook whose revolutionary idea of offering travel excursions in 1841 really took off and was later to become Thomas Cook & Son growing into a UK household name of mass tourism. In what was a shock to many, the popular travel agency folded in 2019 but still bearing his name are the fourteen Thomas Cook Memorial Cottages that provide homes for a few of Melbournes senior citizens. The Market Place is the hub of Melbourne with shops all around and where the main stop for public transport is located making the Market Cross a natural meeting place for both locals and visitors. Budget Locksmiths Derby is looking to also become an integral part of Melbourne by offering all Locksmith Services showing off our High Quality Workmanship at affordable prices, FREE No Obligation Quotes and No Hidden Extras from an experienced and approachable team that offer such great Customer Service you won't need to look anywhere else.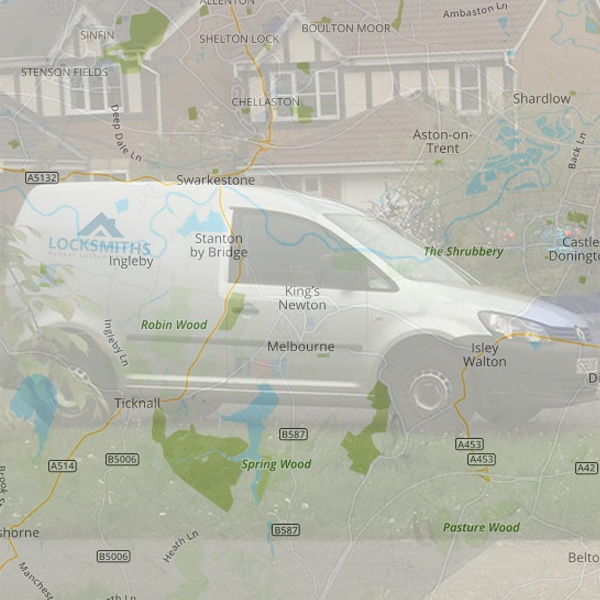 Emergency Locksmith
Melbourne
What could be more of an Emergency than being Locked Out In Melbourne. Our hardworking Emergency Locksmiths can open any door and are available 24/7 delivering all of our services just when you need them. Our friendly, trustworthy team aim to be with you within 15 minutes of your call to help take the stress out of any situation as Budget Locksmiths Derby are a well established company with experienced Locksmiths you can rely on for Re-Entry whether it is a Door or a Vehicle, Window Boarding with 24 hour Glass Replacement or Lock Changes. Window Boarding is available for both our Residential and Commercial customers where we can take care of a small window or a large glass shopfront by using best practice of Boarding from the inside giving a seamless fit and extra security. Our helpful team will even clear up and take away all the broken glass for you. All part of our five star service. Emergencies can often catch you off guard so for your convenience we offer a variety of ways to pay. By Cash, Debit Card or over the phone by yourself, family or friends. Save our number in your phone to get a rapid response from our Emergency Locksmiths in Melbourne.
uPVC Door Repairs
Melbourne
Having problems with your uPVC or Composite Door? We are experts in all the issues that can occur with uPVC and Composite Doors. Misalignment, Hinges, Handles, Panel Replacement, Glass Replacement, Multipoint Locks and Gearboxes that fit into the mechanism strip. We carry out Lock Changes and Lock Upgrades on uPVC Doors, Composite Doors, Wooden Doors, Patio Doors and Garage Doors and through using a wide range of quality suppliers and well known brands such as ASEC, GU, Fuhr, Yale, Avocet and Brisant Ultion we ensure that you get the right lock in the right place. We fit the Euro Cylinder Anti Snap Locks that come with 5 keys as standard and all parts fitted by Budget Locksmiths Derby come with a 12 month warranty. Do you want to personalize or add Security to your uPVC Front Door? Let us show you our range of accessories that include House Numerals in different styles and colours, Letterplates and Letterboxes, Door Chains to prevent unwanted access, Door Viewers to see who is at your door available in a selection of strengths and fitted to just your height, but if you prefer something more remote, how about a WiFi Door Camera that links up to your TV so that you can see outside your front door without leaving the sofa. For a wider view we also supply and fit CCTV Cameras and also Alarm Systems. Have you just moved into a new house in Melbourne and want to change or upgrade the locks? Do away with the worry that the original locks may have had duplicate keys. Budget Locksmiths Derby are happy to offer a FREE New Home Security Check that includes a Risk Assessment and Security Audit so that you can get advice from a professional as to the best way to secure your home that suits your budget and install British Standard Locks that meet your Home Insurance Plan and may even reduce your premiums. Give us a call anytime for more information.
uPVC Window Repairs
Melbourne
uPVC Windows are good-looking, low maintenance windows and if you are looking to sell your house they are a real advantage in making the house look smart however condensation, or fogging is not a good look inside or out but can be easily rectified. Caused by the breakdown of the seals allowing liquid to seep through, by changing the seals and resealing the window we can restore that clear view from your uPVC Window. Handles and Locks can be another pain point, maybe you have a failed Espagnolette Locking System, Window Gearbox or a handle that is not working correctly, it doesn't matter whether you have a Cockspur, In-line or Tilt and Turn handle on your window our uPVC Window Repair Team have all the skills required to diagnose, repair or replace the handles and to fix any locking issues as Budget Locksmiths Derby are always looking for solutions to solve problems without you having to pay out for a whole new uPVC Window. Having an instant quote with no pressure or hard sell allows you to quickly make the decision that we are the Locksmith Company to do a great job for you.
Commercial Locksmith Melbourne
Melbourne has a wide variety of different shopping experiences from everyday shopping to galleries selling art, outlets for local produce, antique shops, specialist shops, tearooms, bistros and restaurants but one thing they all have in common is that when they close the doors at the end of the day they all need to be secure and that's where we can support with professional locking solutions specifically for the Commercial sector whatever the size of your business, at Budget Locksmiths Derby our Melbourne Commercial Locksmith Team are committed to delivering the best service and advice to keep your business secure. Having a fully rounded team that includes experts in Vault and Safe work we have all areas covered. Safe Opening and Repairs, Vault Opening, Repair and Removal. We can Open any Door, carry out Regular Lock Changes and High Security Lock Changes, Fit Emergency Door Hardware, Security Grilles, Fire Safety Door Mechanisms, Push Bars and Push Pads and fit or repair Roller Shutter Doors. Commercial Alarm Systems, CCTV and Video Surveillance technology is available for any size of business. Powerful Flash Fogging Systems, capable of filling any size of area with a dense fog which in turn activates a Blinding Strobe Light is an effective deterrent for use in a Jewellery Shop.
We are able to design and fit master key systems which allow different levels of access to areas throughout the business, supply and fit Keyless Systems, Door Entry Systems and Registered Key System. Housing Agents and Landlords, we offer a comprehensive range of services to keep your properties safe and secure. Our Service Contract includes carrying out Window and Door Repairs, Changing Locks, assisting on Lockouts and Evictions, where applicable dealing with tenants on your behalf, offering customized discounted payment methods on behalf of a tenant and ensuring that all Locks comply with Fire Regulations are the most common inclusions on a Landlord Service Contract but you are free to personalize it to fit your requirements.
Auto Locksmith in Melbourne
We have a team of experienced Auto Locksmiths available 24 hours a day 7 days a week ready to provide a fast, efficient Vehicle Door Opening and Snapped Key Removal Service for Cars, Vans and Lorries in Melbourne. Trained in working with non destructive methods and using the latest specialist tools specific to your make and model of vehicle the team will have your door or boot open without casing any damage to the lock itself or the paintwork. We also include Motorcycles in Melbourne too where our services include Unlocking the Ignition, Opening Seat Compartments, Key Removal and Unlocking and Removal of the Security Chain. So if you Lock your Keys inside your Car, Van or Lorry in Melbourne, give us a call and we can have you back on the road in no time.
Crime in Melbourne Derby
Melbourne attracts a lot of walkers and visitors to its Market Town, the nearby attraction of Melbourne Hall and the local church that has the stature of a cathedral. and though this is great for the area, it can also bring with it some unwanted attention such as Anti Social Behaviour. Melbourne is part of the Derbyshire initiative, Safer Neighbourhood which provides an online two way stream of information between the Police and the public. Budget Locksmiths Derby encourage getting to know your local policing team by reporting incidents through the appropriate channels and allow the Police to keep Melbourne a safer place to live and work.