Why replace the whole door when our experts can repair it for you!
Our door repair team combined have more years experience than we could count on our fingers thumbs and toes when it comes to repairing uPVC doors in Derby, its a task we are extremely confident in performing no matter the issue you experience, with holding a wealth of knowledge in multipoint locks, panel and glass replacement we have acquired over the years, in fact Budget Locksmiths Derby are that confident in providing the uPVC door repairs Derby service, we offer a 100% guarantee of being able to carry out a repair, which comes with a 12 month warranty on all parts used. Our trademen are keen to provide not only an excellent all round uPVC door repair service in Derby, we would like to provide our customers with complete peace of mind when it comes to security of your home, talk to our team to discuss your door repair requirements and we'll give a FREE No-obligation quote offering the best price, with No pressure friendly advice.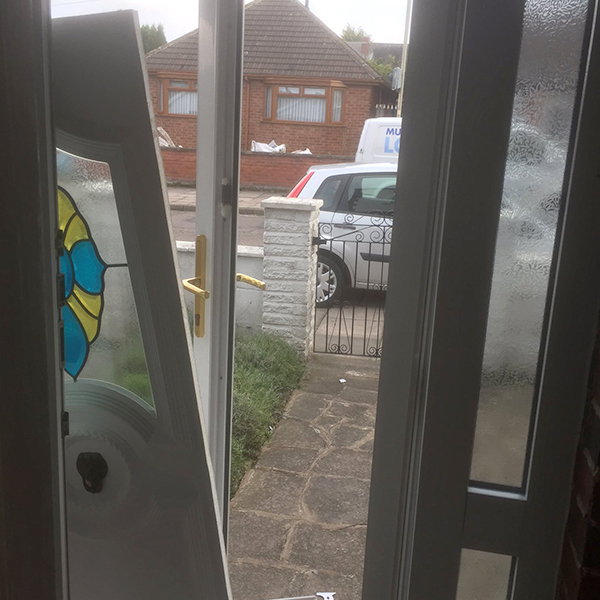 Common uPVC Door Repairs in Derby
Most commonly the centre case needs replacing due to the door dropping over the years and the hooks and rollers losing their correct position so they no longer meet up correctly with the keeps on the frame that they enter to secure the door when locked
This causes a friction and resistance, making the handles either hard to lift up or you may notice that last little push of the handle is very stiff. The week link in this chain of events is most commonly the cam that the spindle passes through and will brake, either causing the handle to lock solid or become totally floppy.
In 80% of cases we can replace the gear box or otherwise known as the centre case as this is removable and then resemble the multipoint lock, euro cylinder, handles and then correct the position of the door so it functions as well as the day it was installed, in around 20% of cases the gear box is not removable from the multipoint locking strip due to the design or manufactures preference so do cost a little more and new hinges may be needed or hinges moved in the less common found scenario that they are fixed butt hinges, we may even need to toe and heal the door and re pack the uPVC door panel — all are jobs we don't break a sweat over, its all in a days work for locksmiths in derby.
Removable cases are as follows of the most popular variety, you can find the name stamped on the 16mm face plate running down the length of the door that houses the hooks and rollers/mushrooms.
GU

Lockmaster

Mila Coldseal Swift-Frame

Wink Haus

ERA
The most popular types that will need a full multipoint locking strip as mentioned are as follows and you will find the manufacture markings in the same place.
Many more are used but this is a selection of the most popular uPVC brands.
uPVC Door Panel Replacement Derby
Budget Locksmiths Derby can also provide and fit new uPVC door panels that absolutely give the door a make over with a new letter box if required and numerals of your choice in a verity of finishings that could give the whole appearance of the property an excellent boost, just to freshen up or maybe you're thinking of selling and would like to make that lasting first impression, with your choice of colour, design and pattern of glass, you might want to give our uPVC door repair experts a call before spending unnecessary cash on a new uPVC door in derby.
Give our team a call for a no pressure chat if you require advice on any issues, we are here to help, advise and share our wealth of knowledge, then should you wish a repair or replacement of any sort to take place, we can book a convenient time slot to suit your schedule.