Swadlincote now the largest town in South Derbyshire that lies between Burton on Trent and Ashby de la Zouch started out as a small manor and part of the parish of Church Gresley. Fundamentally rural, major growth and development took place during the Industrial Revolution where coal and clay was mined on a large scale until just after the Second World War when production slowed down largely being replaced by Engineering, Boilermaking and Retail. Where there is work the population will follow and many new homes were built to accommodate the influx of people. At the time, the land was left ravaged by the Industrial Revolution with no thought for the environment, however so much work and effort has gone into restoring the balance that Swadlincote is now part of The National Forest, a man made forest that blends in with ancient woodland. So successful has the project been that in 2018 the government revealed plans for an English Northern Forest. Truly rebalancing the environment to its natural state countrywide.
Also repairing damage and making good in the area of Swadlincote is Budget Locksmiths Derby who have a professional team of Locksmiths that work 24/7 for whichever of our services you require. You can call us anytime for a FREE No Obligation Quote on our affordable prices that have No Hidden Costs and No Call Out Charges.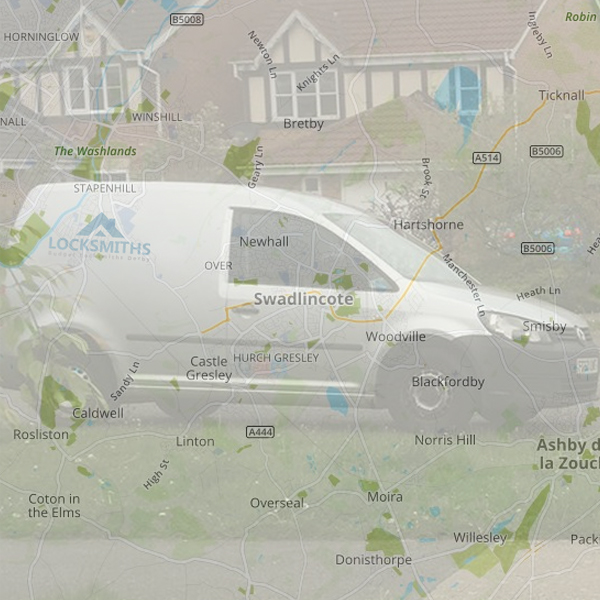 Emergency Locksmith
Swadlincote
Locksmiths you can rely on are just what you need in an emergency and our Swadlincote Emergency Locksmith Team have an excellent reputation for being there just when you need them. Whatever the problem all of the Budget Locksmith services are included in our Emergency Service where we aim to be with you within 15 minutes of your call. The Emergency Locksmith team are ready for any situation so saving our number for a rapid response to your emergency would be a smart thing to do for a service with No Hidden Costs and No Call Out Fee and where for your convenience, payments can be made by cash, card or over the phone by friends or family.
uPVC Door Repairs
Swadlincote
uPVC External Doors, Internal Doors, Sliding Doors, Patio Doors, French Doors Garage Doors, Shed Doors. In fact there aren't any doors in Swadlincote that our team of uPVC Door Repair Locksmiths cannot open and that includes Composite Doors. Repairs and Replacement parts are a large part of what fills the day for our friendly hardworking team, Handles and Hinges, Door Realignment, Frame Repairs, Lock Picking to gain Entry, Lock Repairs, Lock Upgrades, Key Extraction, and Glass Repairs. We fit Euro Cylinder Anti Snap Locks as standard for our lock changes, these locks come with 5 keys and work very well in conjunction with the Multipoint Door Locks that are commonly found on uPVC and Composite Doors. They come in various types that include Hooks, Deadbolts, Roller Cams, Mushroom Cams and Centre Latch. Set into the Door Frame, locking the Front Door with a key in the Euro Cylinder lock activates the Multipoint Lock to simultaneously move all the locks into position creating an impenetrable seal of security. Within the Multipoint Lock is a gearbox and it is usually this part where over time a fault is likely to be found, so if you start to notice the handle going a bit floppy our uPVC Door Repair Locksmiths in Swadlincote will be happy to replace just the gearbox saving you the cost of a whole new Multipoint Locking Unit. All parts from Budget Locksmiths Derby come with a 12 month warranty for your peace of mind so if you are having any trouble with your uPVC Door call us anytime for an instant FREE No Obligation Quote over the phone.
uPVC Window Repairs
Swadlincote
All uPVC Window Repairs are covered in Swadlincote by our trustworthy team of Locksmiths. Window Boarding with 24hr Glass Replacement where our technique of boarding from the inside gives added security until the new glass can be fitted. Replacement handles to suit all windows such as the popular Espag In-line, Cockspur, Offset and the Tilt and Turn. The Espag handle is more usually found in modern uPVC windows and the Cockspur in earlier versions but don't worry if you are not sure, our Locksmiths will be able to advise and answer any questions you may have. Working in union with the handles is the uPVC Lock Mechanism and the Gearbox and if there is a fault in either of those parts the handle will let you know by becoming loose or it will stick in a lock position. Hinges may need realignment if the window is not sitting snugly into the frame. We repair all types of Double Glazing and if you have the problem that causing misting up or fogging then it's probably due to the seals breaking down and letting in the moisture. Let us replace the seals and reseal the glass for you to restore a clear view from your window. Budget Locksmiths Derby have all uPVC Window spare parts available plus some safety items you may be interested in such as Window Restrictors that come in the form of Hooks and Cables which can be great if you have small children and live in an apartment block or want to install them on bedroom windows. All our parts come with a 12 month warranty and no job is too small so give our friendly team a call and restore your uPVC Window to tip-top condition.
Commercial Locksmith Swadlincote
Time is money and our experienced professional Commercial Locksmiths in Swadlincote are well aware of the specialist services required by the Commercial sector. Safe Opening and Repairs, Vault Opening, Repairs and Removal, All types of Locks fitted, Snapped Key Removal, High Security Lock Changes and Master Key Systems that allow restricted and authorized access and can be designed specifically to fit your needs. Shopfront and Window Boarding with 24hour Glass Replacement. We supply and fit Emergency Door Hardware, Fire Safety Door Push Pads and Push Bars and Roller Shutter Doors that can be fitted or repaired. We have found that in the Commercial sector particularly, problems vary and thats why our Commercial Locksmiths in Swadlincote can think on their feet and are adept at coming up with solutions. Your business will certainly be well looked after with a long term Locksmith Service Contract where we are on call 24/7 to ensure that you are fully covered by tailoring a specific package to your individual needs that comes with dedicated support at competitive and discounted rates. Why not book a FREE Security Audit and Risk Assessment and have a chat with us about how Budget Locksmiths Derby can support the security of your business.
Auto Locksmith in Swadlincote
There are not many things more irritating than shutting the car door that has an automatic lock and seeing the keys still inside, you probably have your house or work keys on there as well so you will be pleased to know that in Swadlincote, Budget Locksmiths Derby have experienced Auto Locksmiths work only with branded specialist tools specifically designed for your make and model of vehicle and using non destructive methods of working to gain access, are ready to assist you at any time of the day or night with opening the door or the boot and retrieving the keys. Our Professional Auto Locksmiths provide Door Opening and Key Extraction services for all types of vehicles that include Cars, Vans and Lorries. Motorcycles are included but have a specific set of locks where we are able to unlock the Ignition, Pillion Seat, Top Box and Security Chain. The removal of keys snapped in the ignition is available for all vehicles including motorcycles. A call to Budget Locksmiths Derby will set our wheels in motion to get you back on the move.
Crime in Swadlincote Derby
Derbyshire folk are very proactive in keeping each other informed regarding what is going on their neighboring areas and Swadlincote is very much a part of this initiative. There is a Derbyshire Crimewatch Facebook page for people to share experiences and to warn others to be alert. The local police also have a presence on the page, so all the latest crime news is posted for everyone to see. Safer Neighbourhood Groups are in operation, another way of allowing people to share their concerns and get action. All criminal activity and Anti Social Behaviour needs to be reported and the people of Swadlincote are definitely making their voice heard.