A big name associated with Ripley is the late Sir Barnes Wallis born in Ripley and inventor of the bouncing bomb which was largely brought to the attention of the masses through the film The Dambusters. In commemoration to him and to ensure his name lives on in Ripley, there is a recreation area and a pub named after him. Another big name that had a huge amount to to with the development and prosperity of the area is Butterley. Butterley, founded by a group of pioneering engineers started in the 18th century by extracting the natural mineral resources in the area and grew to have several companies that dealt with Mining, Quarrying, Brickworks, Foundry, Railway and Steelworks. One of their best known works that is still widely admired today is the recently restored Arched Roof at London St Pancras Railway Station.
Another well established company making its mark in Ripley is Budget Locksmiths Derby who are pleased to be available to serve the area of Ripley offering comprehensive Locksmith Services at affordable prices from a team of friendly and professional Locksmiths. Contact us by phone or email for a FREE No Obligation Quote with No Call Out Fees and No Hidden Costs working to keep Matlock safe and secure with excellent reliability 24hrs a day you will be well looked after at Budget Locksmiths Derby.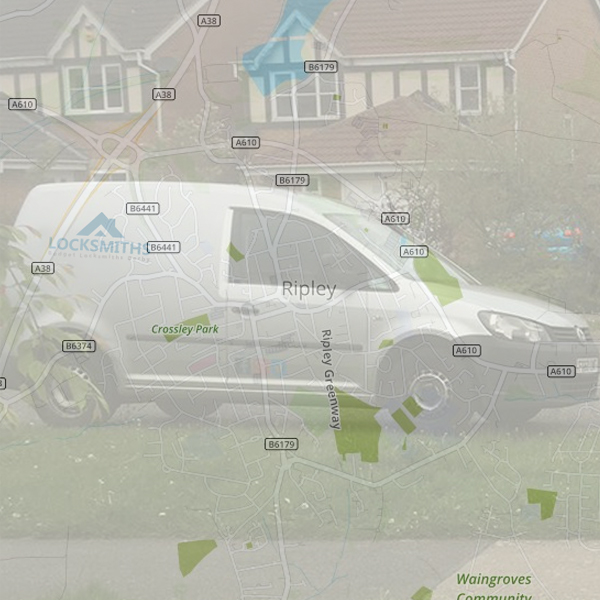 Emergency Locksmith
Ripley
Problems occur usually when you least expect them so you need a well established company that has a team of professional Locksmiths that can be with you within 15 minutes if you find yourself Locked out in Ripley. Budget Locksmiths Derby are the Locksmiths you need where our comprehensive services include Changing Locks, Replacing Damaged Locks, Repairing Locks and we can Open Any Door. Window Boarding and 24hr Glass Replacement of any type of glass for Windows or Doors can be fitted. Repairing damage caused to Doors and Frames and Boarding Up from the inside to give added security. We even clear up and remove the broken glass from the scene. Our Emergency Locksmith Service comes with No Call Out Charge and No Hidden Costs so saving our number in your phone could be just the one to call when you need an Emergency Locksmith in Ripley.
uPVC Door Repairs
Ripley
If you have a uPVC Door that needs repairing in Ripley you need to call Budget Locksmiths Derby. Experts in all uPVC, Composite and Aluminium Door Repairs we will restore your door to good working order. Being able to supply and fit all the parts of a Door means that our uPVC Door Locksmiths in Ripley will always have a solution whatever the problem. The Multipoint Door Lock has many types, Hook, Deadbolt, Roller Cam, Mushroom Cam, Finger Bolt, Centre Latch, and the Anti Lift Pina and Hook but don't worry if you don't know which one you have, just let our team do the work for you. We can replace the Centre Case Gearbox, Replace Door Handles, Hinges and Panels. Carry out Door Frame Repairs, Fix Sagging or Misaligned Doors, Glass Repairs and Replacement. Open Locked Doors, Lock Repairs and Replacement and Lock Upgrades. Using branded manufactured parts and accessories such as Avocet, Fab & Fix, Fuhr, G.U. Mila and Yale there is a 12 month warranty on any of the replacement parts we fit.
For adding a personal touch to your home Budget Locksmiths Derby are happy to offer a range of accessories. Hinge protectors, Pet Flaps can be fitted or removed, choose some Numerals for the front of your home from a range of colours and styles to suit everyone. Door Knockers, Letterplates, Letterboxes and Letterbox Restrictors. Door Viewers that come in different strengths and can be set at just the right height for you to easily see who is on the other side of the door. Door Restrictors or Chains are also useful for denying access as they prevent the door from swinging open and keeps you in control of who enters your home. WiFi Security Camera placed outside the front door and linked to the TV allows you to see who is at the door if you are busy in the kitchen or relaxing in the lounge or CCTV Security cameras that can cover an extensive area or just your boundaries. If any of these accessories interest you or you would like more information on any of our services we are happy to either take a phone call or respond to your email.
uPVC Window Repairs
Ripley
For all uPVC Window Repairs you need doing whether Residential or a Commercial premises and no matter how big or small the job, Budget Locksmiths Derby have Locksmiths in Ripley that you can rely on to provide quality workmanship at affordable prices. Trained in all aspects of uPVC Window Repair and offering a 12 month warranty on all parts fitted, our team have an excellent reputation of getting the job done to a high standard. Draughty Windows are costly and Windows that don't open make the room stuffy, Misted or Foggy Windows are annoying and unsightly. Our friendly team can deal with all of these issues by repairing your uPVC Windows to as good as new without the cost of having to fit a new window. We can fix problems with the Cockspur, Inline, Offset, Tilt and Turn, Espags and all the types of handles commonly found on uPVC Windows, the Window Lock Mechanism and the Gearbox, the Hinges and the seals. Whatever your uPVC Window problem we will sort it out. Our Glass Replacement Service includes all types of Glass as we are able to supply and fit Double Glazing, Toughened Glass, Self Cleaning Glass, Patterned Glass, Georgian Bar Glass and Glass with Lead Work. If you have any uPVC Window questions feel free to call Budget Locksmiths Derby anytime for some knowledgeable advice with definitely no hard sales, or you can drop us an email or request a callback and we will call you.
Home Security Ripley
If you are moving to the area for the first time or even moving to the next street, a new home takes a while to settle in to but the first priority should be the safety and security of your family and property. Budget Locksmiths Derby advise changing the locks on a new property so that as a new homeowner in Ripley, you are safe in the knowledge that the only one in possession of the keys to the property is yourself. For Front Doors we fit the Euro Cylinder Anti Snap Locks as standard that come with a set of 5 keys and a 12 month warranty and we also cater for French Doors, Patio Doors, Bi Folding Doors, Bedroom and Bathroom Doors. For other areas we have a wide range of big brand locks and padlocks for Garages, Sheds, Outbuildings, Perimeter Gates and Electric Meter Boxes. A selection of Home Safes are also available.
Why not take advantage of our FREE New Home Security Check with feedback from an expert that will give you all the information you need to make an informed decision about the security of your new home. No pressure or hard sales, just honest friendly advice is what we offer. Just a quick call or email to Budget Locksmiths Derby and arrange a time convenient to you.
Auto Locksmith in Ripley
No need to worry if you lock yourself out of your car in Matlock, just call Budget Locksmiths Derby who have a Team of experienced Auto Locksmiths waiting for your call. With super fast response times and working with a trusted brand of specialist tools specific to the make and model of your vehicle we can open Car Doors, Van Doors and Lorry Doors, Boots or Extract Broken Keys from locks without causing any damage to the existing lock or paintwork. Cars, Vans and Lorries are all included in our extensive list of vehicles but if you are not sure, then just give us a call for an immediate answer and a Free No Obligation Quote. This invaluable service is operated 24 hours a day, 7 days a week so there will always be a reliable Ripley Auto Locksmith available to help out of hours. With some good riding routes located around Derbyshire, Ripley is a draw for Motorcycles so we also have a range of services to support stranded bikers. Ignition Unlocking, Snapped Key Removal, Seat Compartment and Pillion Seat Unlocking, Security Chain Unlocking and Removal are some of the most common calls we receive. Payments can be made by cash, card or taken over the phone from family or friends, a real advantage if you are stuck miles away from home.
Crime in Ripley Derby
Ripley is unfortunately no stranger to crime however the dedicated Local Police Team plan and carry out operations targeting criminals and have taken the initiative of informing local residents in ways to report crime and stay safe both locally and online by giving crime prevention advice and advertising stolen goods to look out for and report. Budget Locksmiths Derby want to assist in keeping the residents of Ripley feel safe and protected but also be there to pick up the pieces and support if you become a victim. We are just a phone call away.