With a well established professional local budget locksmith company on your doorstep providing all aspects of the locksmith trade 24 hours a day, you will be well looked after by our friendly and efficient team of Locksmiths in Oakwood. With lots of retail and social amenities Oakwood has a local nature reserve, the only ancient Oak Woodland in Derby and one of the largest housing estates in Europe, an area where a large amount of residents call home and we are proud to serve. We are here to Repair, Restore, Maintain and Improve your security in both the Residential and Commercial sectors which are covered by our experienced teams who have the specialist tools and skills required to get the job done, taking pride in doing a good job where all the work is fully insured with a 100% guarantee and all parts have a 12 month warranty. We offer competitive affordable prices constantly monitored by Our Best Value Policy and payments are accepted in cash or by debit card in person or over the phone. Call or email for an instant No Obligation Quote that has No Call Out Charge or any Hidden Extras added on. If you have any issues or concerns regarding your Home or Business Security, just call Locksmiths in Oakwood near you and book a same day appointment to get it fixed.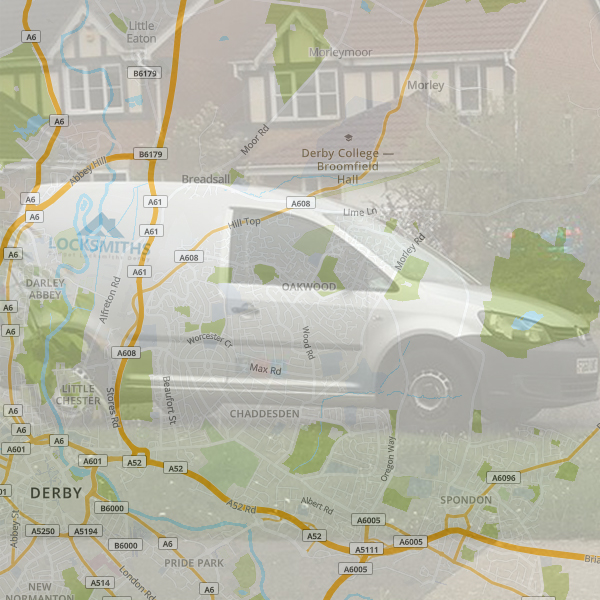 Emergency Locksmith
Oakwood
Always here when you need us most if you need an experienced, level headed Locksmith who can deal with a Residential or Commercial Locksmith Emergency our team are who you need to call. 100% reliability with 24/7 Rapid Response Times they will soon have everything back under control. We can deal with any situation, Locked yourself Out of the House? Damage resulting from forced entry, Window Boarding and Glass Replacement, Safe Opening and Repairs, Keys Snapped in the Lock, Lock Repairs or Installations whatever your problem we will have a solution. Save our number and when you call, you will instantly get through to one of our team who will be able to quickly assess the situation and dispatch help out to you immediately to re-secure and protect your home or business.
uPVC Door Repairs
Oakwood
As the last part of the residential estate in Oakwood was finished in late 2001 it is likely that low maintenance, energy efficient uPVC Doors are quite prevalent in the area as well as Composite Doors that arrived into the UK in the late 1990's. uPVC Doors and Composite Doors are praised for their longevity, they don't warp or rot over time however it is not unknown for faults to develop. A faulty door leaves your property vulnerable and an open invitation for unauthorized access. Our highly trained Locksmiths are able to carry out repairs on all types of doors that can range from repairing or replacing floppy Handles, Hinges that have dropped and allowed the door to sag or become misaligned, the door lock not working could indicate a problem with the Door Lock Mechanism or the Door Lock Case. The majority of uPVC and Composite Doors have a Multipoint Lock installed which contains different locking points that could be a combination of a Centre Latch, Anti-Lift Pin and Hook, Deadbolt, Fingerbolt, Mushroom Cam, Roller Cam or Hooks and in addition to that there are many brands on the market making it difficult for you to identify the exact make fitted. Let us come and fix your door problems for you, we carry all uPVC and Composite Door parts in the van ensuring a hassle free experience. If the time comes when you would like to replace your door we have a brochure full of Stylish Modern uPVC Doors and a Stunning selection of Composite Doors available for you to browse through. Give us a call, send us an email, request a call back to request a brochure or to get advice or information with no pressure or hard sell techniques.
uPVC Window Repairs
Oakwood
Window locks play a sometimes overlooked but important role in creating a secure environment and the most requested lock repairs we get are from uPVC Windows. We supply and fit all types of lockable uPVC Window Handles, the Espagnolette is a Locking System that works with the Multipoint lock and can be recognized by the square spindle that comes out of the back of the handle. The Handles come in various styles. The Inline Handle opens to the right or left and the design of the handle is straight whereas the Cranked Handle and the modern Offset Handle are available in either right or left handed versions. The Cockspur Handle doesn't have a spindle but has a spur which settles on a wedge. The wedges come in different sizes depending on the size of the backset on the handle and they are also available with left and right options. Tilt and Turn handles are similar to Espag Handles only bigger and stronger due to the size and weight of a Tilt and Turn Window. Issues with Double Glazing such as condensation or misting can be resolved by replacing and resealing the glass, faulty seals can be replaced and Misaligned Hinges reset or replaced. Call for a FREE No Obligation Quote on any uPVC Window problems so that our polite and hardworking team can reseal that gap in your home security.
Locks and Upgrades in Oakwood
There are so many locks on the market today that it becomes confusing to know which lock goes where and why. With our extensive in depth knowledge of locks of all makes and types for both Residential properties and Commercial buildings, Oakwood Locksmiths are here to help and guide you into making the right decision when changing or upgrading your locks. The Euro Cylinder Lock, popular and is straightforward to upgrade by changing the cylinder with a higher specification. As a standard we fit the Ts007 Anti Snap Euro Cylinder that has Anti Pick, Anti Drill features and comes with 5 keys. There are three types of Euro Cylinder Locks, the Double Euro is the most common and requires a key for both sides. The Turn and Key Euro must be fitted in buildings with multiple occupancy. It requires a key to enter but has a knob to turn for an easy exit in case of emergency. The Half Euro is operated from just one side and commonly used on Garage Doors although could also be useful on a side door. Multipoint Locks, 5 Lever Mortice Locks, Night Latches, Combination Locks, Digital Locks, Keyless Locks right up to Master Key Systems the list is endless. For our locks we use big brand suppliers such as Avocet, GU. ERA, Fuhr, Yale, Union, Lockmaster, Fullex and Winkhaus to name a few to ensure you get the best fit for complete security and protection of your home or business.
uPVC Door Accessories
And Security Products in Oakwood
Want to customize or make changes to the look of your home? Maybe you would like to change the Handle on your Front Door or put a stylish Knocker on. We have a large range available of both products plus Letterplates and Letterboxes that all come in a variety of shades and finishes. Numerals that identify your house in a selection of colours and styles to match the house and Pet Flaps that can be inserted or removed with a uPVC Panel fitted to replace it. Whatever you choose, we are happy to deliver and fit these products for you. Security Products include Door Restrictors, Door Closers and Door Chains. Window Hooks and Cables that restrict the window from opening to its full extent. Advance warning options from Spy Holes in the Front Door and WiFi Door Viewer Security Cameras that link up to your TV right up to Domestic and Commercial grade Alarm Systems and CCTV Units. If you would like to discuss whether your home would benefit from any of our products or have some ideas of your own you would like to implement, give us a call for some friendly honest advice.
Auto Locksmith in Oakwood
Locked your keys in the car? Don't panic. You will of course already have our number stored in your phone so that one of our friendly Auto Locksmiths can aim to be with you in as little as 15 minutes. Available 24 hours a day, 7 days a week our Door Opening service works for Cars, Vans and Lorries plus we have other lock picking options for motorcycles. Our professional Auto team gains access using non destructive methods of working that leave the lock on the vehicle undamaged and the paintwork untouched so once reunited with your keys you will be able to continue your journey. If the keys have been lost or damaged we are currently unable to provide replacement keys. We are able to gain access to an extensive range of makes and models on the road today using precise specialist tools specific to the vehicle with only a few exceptions, so if you are not sure if your classic car is covered, a quick call to us will confirm if we can help. Motorcycle options include Ignition and Fuel Cap Unlocking, Seat Compartment, Pillion Seat and Top Box Unlocking, Security Chain Unlocking and Removal.
So if you find yourself unexpectedly locked out of your car, keep calm and call for an Oakwood Auto Locksmith near you.
Crime in Oakwood Derby
As a resident in Oakwood have you attended a Crime Prevention Event in the area? The local Police join forces with the Neighbourhood Watch groups to keep Oakwood a safe and desirable place to live. You get to meet the team that protect you and voice your concerns about things that matter to you. There is of course plenty that we can all do in keeping ourselves and our families safe and security starts at home. Making checks that all the moving parts on uPVC Doors and Windows are functioning as they should and all the locks inside and out are locking and being used correctly. Locksmiths in Oakwood have your best interests at heart and are here at anytime to listen, advise, repair or replace any window, door, lock or anything that compromises your overall security.